Design for Shared Progress: Our Approach to a Sustainable Future Through Design
The catalyst for starting our design practice came from the most uncreative of mediums: A letter, published in the New York Times, on January 15, 2018.
This letter was a call to action, addressed to the executives and boards of companies owned in part by an investment management firm, BlackRock, Inc. Written and signed by Laurence D. Fink, the firm's chairman and CEO, the letter stated very clearly that the future prosperity of businesses depended on not just financial performance, "but also…how it makes a positive contribution to society."
Whatever Mr. Fink's motivation, his call to action was clear : The long term prosperity of the companies his clients effectively own, is dependent on their ability to answer the call of larger, systemic issues. His recommendations are just an echo of the years-long efforts by environmental activists, Indigenous groups, labour movements and more for corporations to think beyond the bottom line. So while the content of what he was saying was not surprising or new, the impact of who was saying it was noticeable. Given BlackRock actively manages over $1.7 trillion in assets and $6 trillion overall, this effectively was a mandate from the largest investor in the world.
"Companies must ask themselves: What role do we play in the community? How are we managing our impact on the environment? Are we working to create a diverse workforce?"
Laurence D. Fink — Chairman and Chief Executive Officer, BlackRock Inc.
User experience design professionals like myself have spent our career s trying to create better customer experiences for some of the largest companies in the world, in turn improving their revenue and reputation. Often in the consultancies or companies we work for, we are encouraged that we were making peoples lives a bit better in the work we were creating.
However, over the last few years many have come to realize that user-centred design is by definition a two-dimensional view of value creation that more often than not, has serious long term consequences. As technology and design enable solutions like quicker ways to shop, easier ways to consume and share media, and simpler ways to visit new places, it can also expedite over-consumption, enable the spread of misinformation, or exacerbate local housing affordability crisis.
The reality is that the value we create for individuals and organizations fails to account for a larger and often negative impact on society. Mr. Fink's letter served notice that not just business leaders, but those that advise and shape their companies need a new approach. For those of us who earn a living by influencing the strategic decisions of our clients, the challenge is clear: Prove that we can create sustainable growth for businesses and society alike.
A Better Model: Shared Progress
To take these steps, organizations need partners who can understand and reimagine the role technology can play in the sustainable and shared growth of business and society.
When we started to examine how to approach design in a more socially inclusive way, the work and initiatives of a few started to inspire us.
As we set out to establish a new type of design practice, the work we do hopes to take these learnings and build on them to continue to explore ways to create better outcomes for our clients and those impacted by the work they do.
It's worth noting that establishing a practice in helping the private sector create social impact is inherently controversial. After all, the idea that for-profit corporations, built on the foundations of win-at-all-costs, Friedman-esque capitalism will chiefly be responsible for the future of our society is almost an oxymoron. The thought that design can help shape the long-term influence of companies to create shared value for society and shareholders seems naive.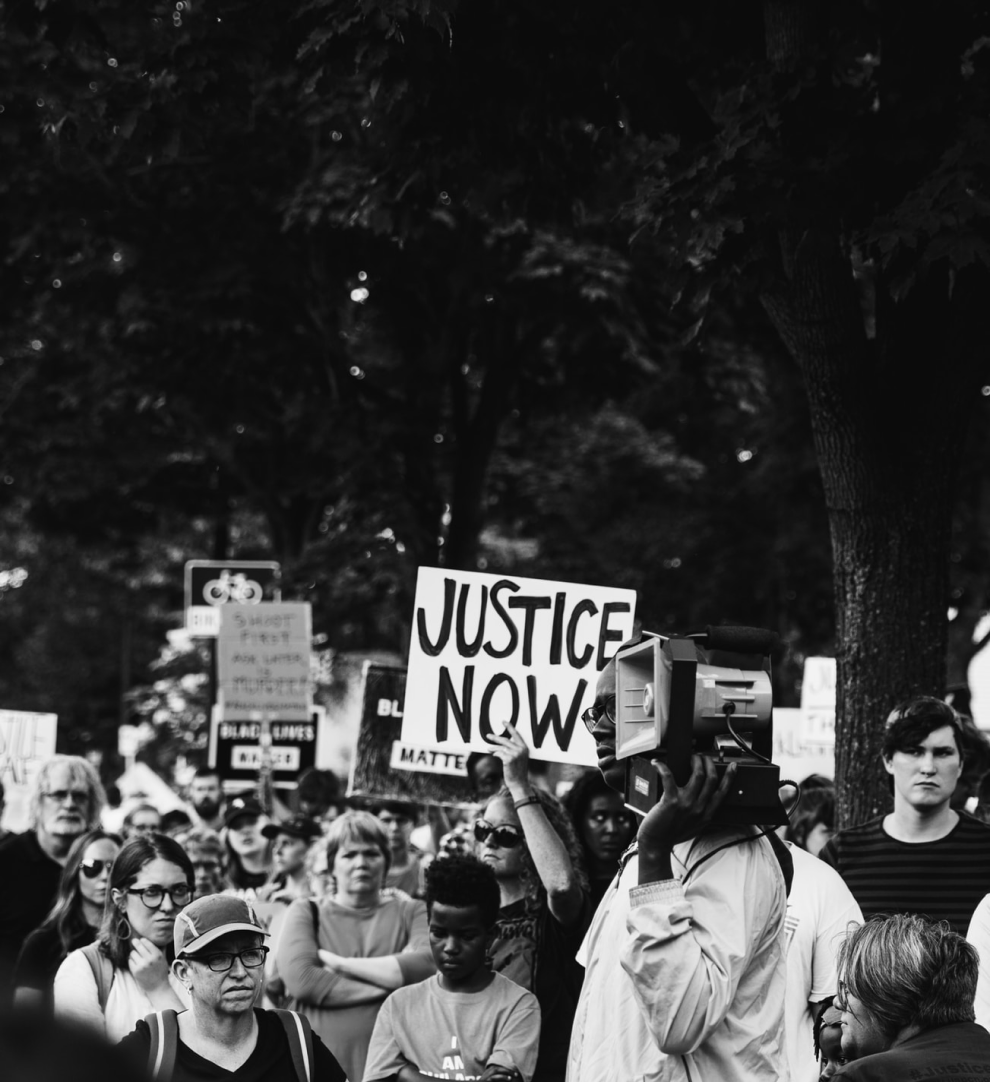 The world is no longer waiting for everyone who has influence over social progress to take action. Photo by Isaiah Rustad on Unsplash.
From Design to Co-Design
It is difficult to imagine that type of change happening when designers or companies act alone as experts. To truly create change, we believe we need more collaboration.
"Collaborative associations are groups of people who work together to solve problems or open new possibilities (and who become co-producers of the results)"

Ezio Manzini — When Everybody Designs: An Introduction to Design for Social Innovation
Examples of more collaborative models, build on co-operation, transparency, and shared goals show how design can make change happen.
In the brief time since we opened our practice, we've been evolving an approach to test how design can create shared value for both business and social value in few different cases:
An AI start-up we worked with to build a more diverse workforce and, by proxy, a more diverse machine learning model.
A national retailer we are helped create an assisted gift shopping marketplace, designed to foster deeper relationships with each other and support local merchants.
A partnership with the Google News Initiative and global press freedom advocate, Maria Ressa, to create a new type of news platform to increase civic engagement.
As we continue to work and refine our process, we will share our learnings and seek guidance from existing practitioners of social good. Pursuing this as a practice also means focusing our personal lives in the same pursuit toward a better environment and social justice.
It is an imperfect pursuit, but progress is never a straight line, it is revolutionary. We hope to grow with those who also share our vision of creating social impact and sustainable value for businesses and society.
Or, as we call it: Design for shared progress.